Widgets
When you install Glossary, you will notice that some new widgets appear in the Widgets section of your WordPress site.
You can use them to customize your experience with Glossary and add new features to your site frontend.
Keep reading to learn more about the widgets:
Glossary Alphabetical Index
With this widget, you can add an alphabetically ordered list of your Glossary terms.
You can give a title to your widget (i.e., My Glossary) and check the option to show the count of terms.
You can also choose to show the widget on any category or only on a specific one.
To separate the letters, you can choose between five themes: Hyphen, Slash, Dot, Underline, and Tiled.
Here's an example of how the widget looks like:
Glossary Categories
With this widget, you can show all the categories of your Glossary in the sidebar of your site.
Give your widget a title, and then check the options you like:
Display as dropdown
Show post counts
Show hierarchy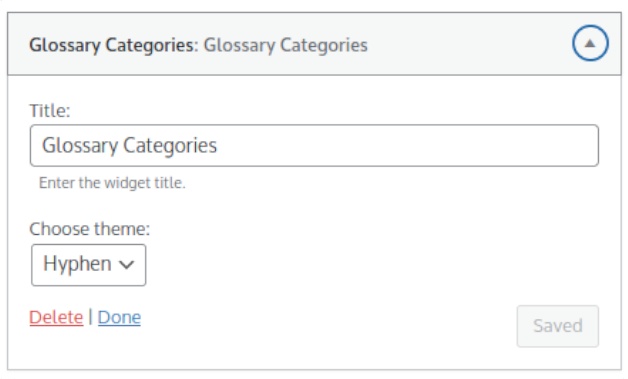 This is how a dropdown Glossary Categories widget looks like:
Glossary Search Bar
If you have a Glossary PRO license, you can use this widget to show a term search bar on your site.
This way, your readers will be able to search for terms from the search field.
Give a name to your widget and then choose if you want to add a dropdown menu for category based filtering: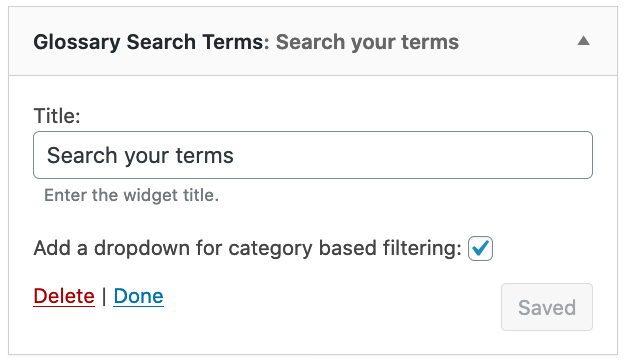 This is how the search bar with dropdown filter will look like:
Latest Terms
With this widget, you can show your site's sidebar the latest terms added to your Glossary.
Give your widget a title and choose how many terms you want to show.
You can apply this widget to any category of your glossary or a specific one:
This is how the Latest Glossary Terms widget looks like: